There's no way this trend will slow down, the flavours are too addictive! We're going to see more and more spice mixes, condiments, charred and grilled meats, flatbreads and Middle Eastern style salads on tables, with everyone sat around digging in to share.
I think that this is a very vibrant way of cooking, with bold flavours that excite. We've embraced many global cuisines and now it's time to start looking more towards the Middle East, as the cuisines are not too well known here. I think that's exciting for people and for chefs, of course. Cooks like Ottolenghi have inspired people to cook this way and have helped us get hold of ingredients that just weren't available here previously, for example pomegranate molasses, or certain spices.
I also think that these sorts of meals are very much conducive to a certain way of eating which appeals to people more nowadays. For example, this shawarma recipe is Lebanese, and the Lebanese table is always a full one with many dishes, which everyone then digs in and shares. The lamb shawarma can be put in the middle of the table and the meat is served right from the dish, with everyone helping themselves to salads and sauces. I think that's very appealing as a casual way of dining.
As a food and drink editor, it's my job to keep on top of trends, and it's also something I do naturally as a food writer. I live in London and I see these restaurants opening; I see which ingredients are available to buy, which cookbooks people are writing.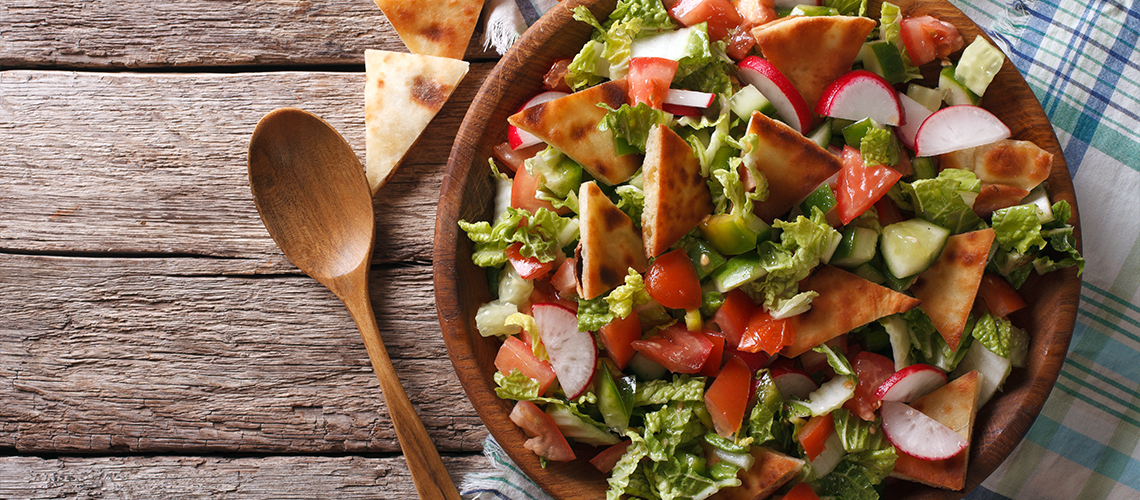 I am huge fan of Middle Eastern flavours and love to create dishes using spices such as Lebanese five spice, and sumac. One of my favourite dishes with sumac is a fattoush, which is a salad of very ripe summer salad ingredients such as small cucumbers, tomatoes and lettuce, with pieces of deep fried pitta bread. The whole salad is then sprinkled with sumac, giving everything a lovely, lemony sharpness. The salad is great with grilled meat dishes.
Using ingredients like pomegranate molasses is easy as it's such a versatile ingredient. For an even easier roast lamb dish just cook a leg of lamb with lots of sliced onions and a good amount of pomegranate molasses in a low oven until the meat is falling apart. You'll end up with a delicious dish, which is sticky, sweet and sour. Serve with pitta breads and a fresh salad.
Persian chicken kebabs are lovely too, made with minced chicken and spiced with turmeric and lime powder. Or slow cook a joint of lamb in yoghurt and whole spices, for very soft meat with an addictive charred crust.
Finding the right ingredients all depends on where you live, of course. Living in South East London, it's easy for me to use local shops, like the fantastic Persepolis in Peckham. The owner of the shop, another food writer called Sally Butcher, is married to an Iranian man. They import all their own stock from Iran and I know I can always find pretty much anything in there.
There are many shops which stock spices for this type of cuisines nowadays though, and most major supermarkets will sell many of them. Failing that, look online.
Use your range cooker to create a succulent meat feast. Whether you prefer your meat slow-roasted, flash-fried or gently grilled, there's a Leisure cooker to suit your taste. If you like cooking with gas take a look at our selection of gas range cookers.