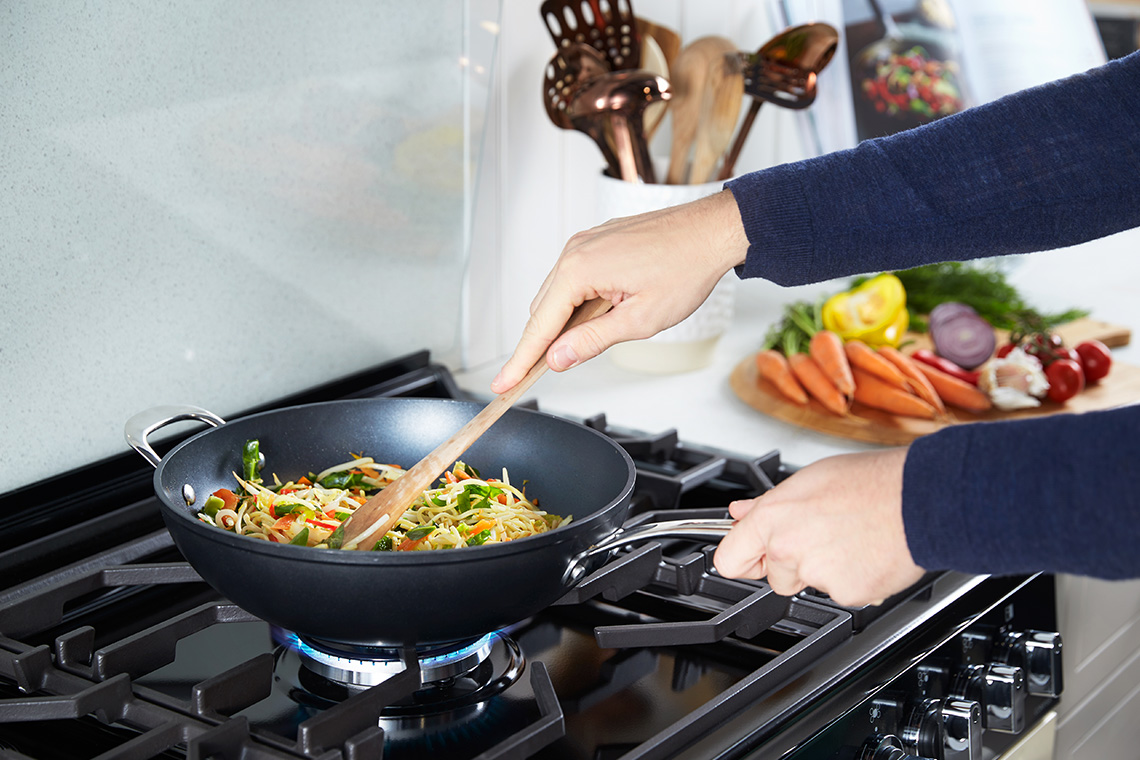 Gas Range Cookers
Gas range cookers are perhaps the most traditional option. All gas range cookers will come with at least five gas burners on the hob. These are a particular favourite of many cooks, both amateur and professional because they're extremely responsive. Turning the dial has an immediate effect on the flame and heat, which is ideal for more precise cooking.
When it comes to the grill, gas is great for things like burgers, because it heats up very quickly. The flame ignites straight away, giving you instant heat and results. However, distribution of heat is arguably more precise with electric.
Similarly, gas ovens can heat up fairly quickly, but due to the fact that they are conventional rather than fan ovens, heat distribution is less even, meaning more care should be taken when planning where to place food in the compartment. Gas is generally cheaper than electricity however, so gas ovens make for a good choice for those who want lower energy bills.
It's always worth noting that while most gas cookers don't require electricity as fuel, they will still require a mains supply for the ignition and the timer. Furthermore, Leisure's 90cm gas cooker has an electric tall fan oven. This is always something to think about when you're installing or planning your kitchen.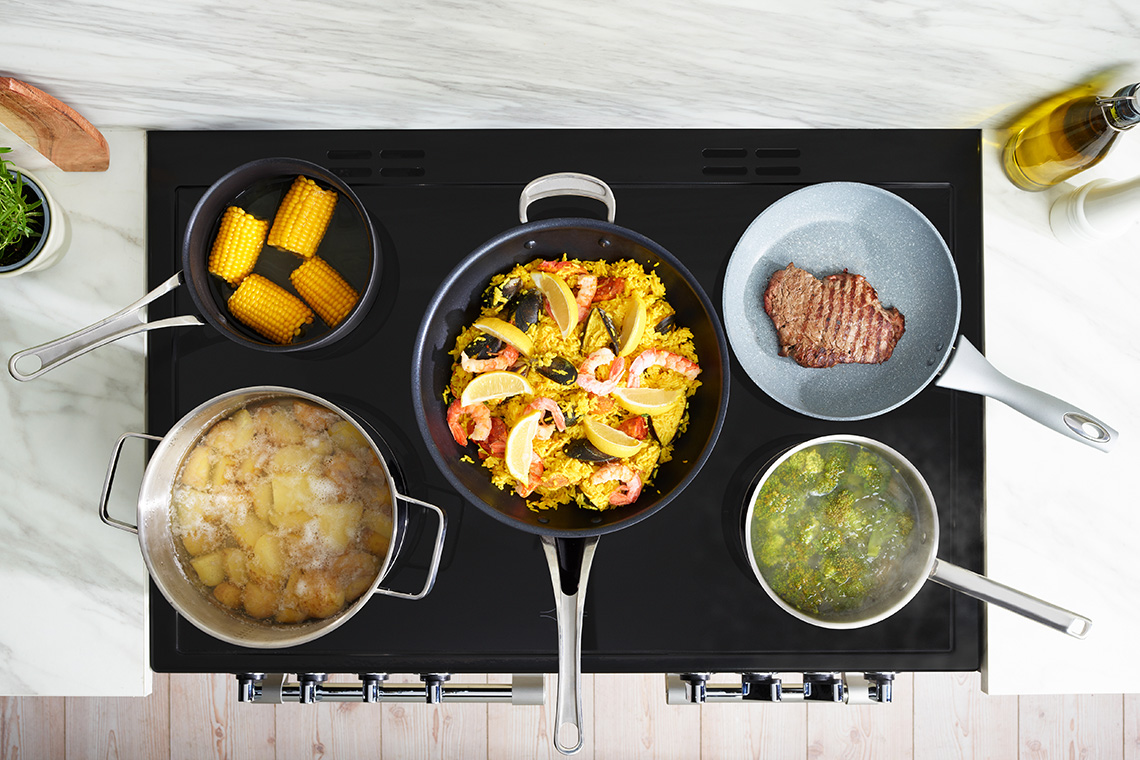 Electric Range Cookers
Electric range cookers are a more modern alternative, ideally designed for those who don't have or don't want to use a gas supply. As no gas connection is required, electric cookers are generally considered to be easier to install. They do not require a specialist gas safety accredited installer to be present, therefore reducing the cost of installation.
Electric hobs are a favourite for those who like minimal work when it comes to cleaning. Leisure cookers are available with either an induction hob or a ceramic hob, meaning each burner is part of a flat surface that's extremely easy to clean. However, electric ceramic burners aren't as responsive as gas, and the hob surface takes longer to cool. But, with new Induction technology, which uses magnetic coils to direct heat straight to the bottom of the pan instead of the surface around it, you can now benefit from the speed and responsiveness of gas, but with the easy-to-clean surface of a ceramic hob. Because only the pan is heated, induction hobs are also a lot more energy efficient than standard electric hobs.
When it comes to the oven, electric is a popular choice, because electric fan ovens mean really even heat distribution throughout the compartment. This gives great results when cooking anything from chips to roast chicken.
Being more efficient, electric cookers are also a wise choice for those who have particular concerns about their environmental credentials, as there are now numerous suppliers of renewable electricity, whereas gas still relies for the most part on fossil fuels.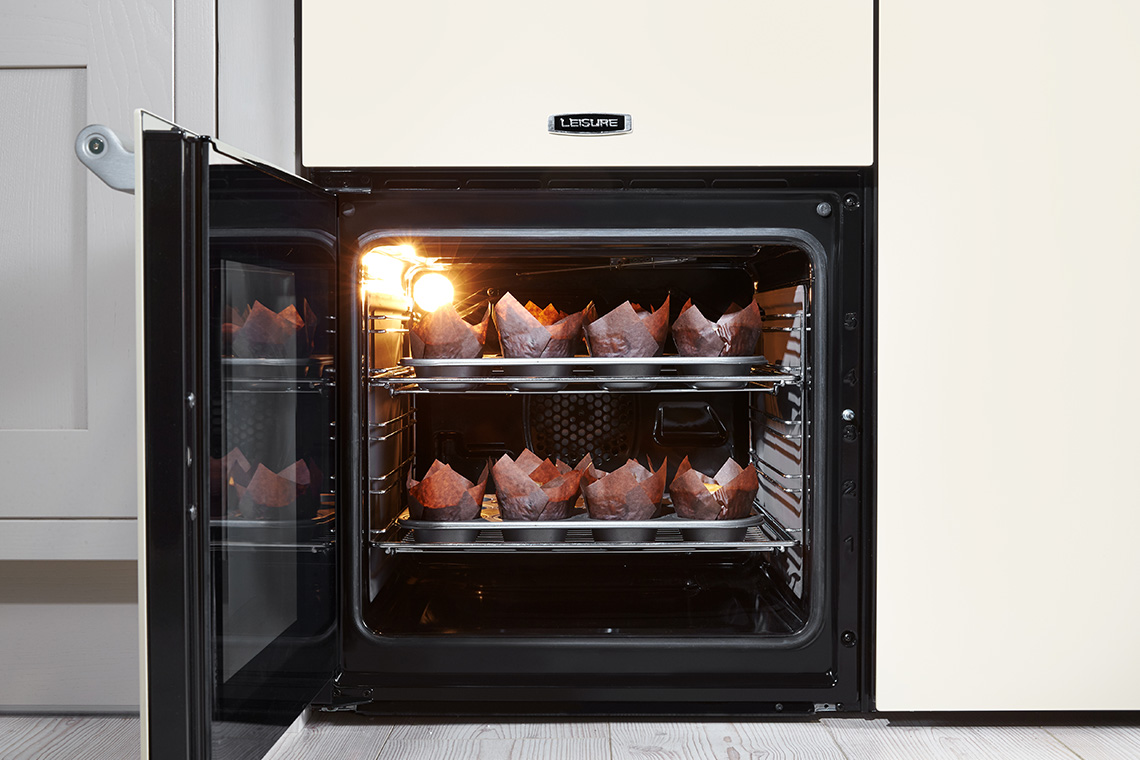 Dual Fuel Range Cookers
Dual fuel range cookers offer the best of both worlds for people who want the responsiveness of gas burners on the hob, with the even heat distribution of an electric grill and fan-assisted ovens.
Have a think about what and how you cook before making a decision. If low maintenance and easy cooking is a priority, then an all-electric option might be for you. Alternatively, choose gas for a more traditional and responsive experience. And remember that when it comes to what fuel type to use, kitchen layout and supply is important too.